WELCOME TO THE FIRST ® TECH CHALLENGE WORLD CHAMPIONSHIP
FIRST ® Tech Challenge (FTC ® ) is designed for those who want to compete head to head, using a sports model. Teams of up to 10 students are responsible for designing, building, and programming their robots to compete in an alliance format against other teams. The robot kit is reusable from year-to-year and is programmed using a variety of languages. Teams, including Coaches, Mentors and Volunteers, are required to develop strategy and build robots based on sound engineering principles. Awards are given for the competition as for well as for community outreach, design, and other real-world accomplishments.
GAME OVERVIEW
CASCADE EFFECTSM is played on a 3.66 m x 3.66 m (12'x12′) square Field with approximately 30.5 cm (1′)-high walls and a soft foam mat playing surface. Two randomly selected teams are paired together as an Alliance to play a match against a second Alliance. Alliances are designated as either "Red" or "Blue.
Scoring Elements are 160 white plastic balls – large (40) and small (120). In the middle of the field is the Center Field Structure which contains two Ball Dispensers with trap doors held in place by Alliance-specific Kickstands. There are also two Center Goals – one Red and one Blue – with Infrared Beacons placed beneath each Goal. The field has six Alliance-specific Rolling Goals with clear Ball Tubes of various heights (30 cm, 60 cm, 90 cm) as well as two Alliance-specific Ramps, Platforms, and Parking Zones.
At the start of the Match, the Balls (large and small) are loaded in the Dispensers in the Center Field Structure. Each Team is given two balls (one large and one small) that can be pre-loaded onto their robot.
Autonomous Period
The Match starts with a 30-second Autonomous Period where Robots are operated via pre-programmed instructions only. Prior to the start of the Autonomous Period, the Center Structure will be rotated to one of three positions. Points will be awarded for Robots achieving certain tasks including placing Autonomous Balls in the Rolling Goal and/or Center Goal, Robots moving off the Platform, knocking over the Kickstand (and releasing balls into the field of play), and moving their Rolling Goals into the Alliance's Parking Zone.
Driver-Controlled Period
In the next two minute Driver-Controlled Period, Robots are tasked with collecting Balls and placing them in the Rolling Goals. Balls Scored In the Rolling Goals are worth points based on the length of the Ball Tube and the Ball Height (at the end of the Match), as shown in the table on the right.
End Game
The last 30 seconds of the Driver-Controlled Period is called the End Game. During the End Game, Robots may Score Balls into the Center Goal as well as the Rolling Goals. Teams can also earn bonus points for every Robot and Rolling Goal that is not in contact with the floor when the Match ends and by moving their Rolling Goals and/or Robots into the Alliance Parking Zone.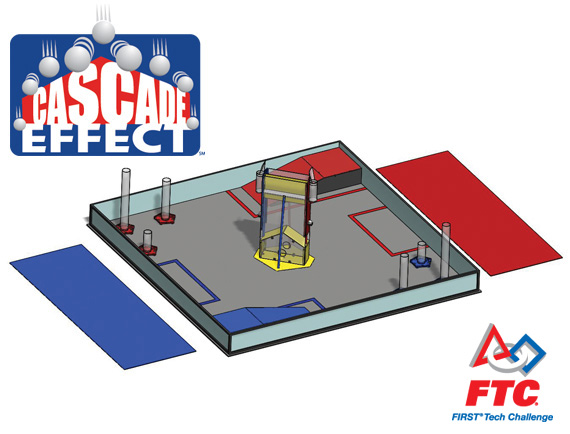 FIRST Tech Challenge (FTC) is an amazing competition for students ready to take on high-school-level robotics. Students experience the power, excitement, and fun of science, technology, engineering, and math (STEM) with hands-on, minds-on activities – all with robots! 
Teams of middle and high-school students design, build, and program robots with both autonomous and driver-controlled modes. They take these robots to local and regional tournaments, competing as Alliances against other teams. The tournaments feature the same excitement and pressure experienced in more traditional high-school athletics. Teams that win at the Championship level advance to the FIRST Tech Challenge World Championship.
FTC teams are adult-led and student-driven, allowing each student on a team to actively participate and engage in the engineering process. Students work with a re-usable robotics kit to design, build, and program robots. FTC empowers students, building confidence, critical decision-making, leadership, and teamwork.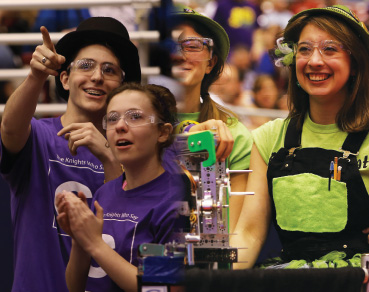 FTC participants are introduced to the engineering process and create and maintain an Engineering Notebook. They develop hands-on programming and rapid-prototyping experience, and learn the value of problem-solving, organizational, and team-building skills. FTC also creates powerful relationships between the young people who compete and the Volunteers and Mentors who participate. FTC students are eligible for more than $13 million in college scholarships.
Competition kits are reusable and affordable. Teams can be school-based, homeschool-based, part of an afterschool program, or organized by community groups such as 4-H, the Girl Scouts, and the Boys & Girls Clubs of America. FTC kits can also be used in the classroom as a great learning tool.
There are numerous ways to get involved in FTC. Individuals can mentor teams, volunteer at events, or join committees to help organize FTC events. FTC is supported by a growing network of Sponsors that provide funding, mentorship, time, talent, equipment, and more to make FTC a reality. FTC is privileged to have the support of some of the most respected organizations in the world. They understand the importance of nurturing the next generation of technology leaders!